I'm still employed at a place where I swore I'd be gone by now. I won't say that I'm entirely unhappy at the moment, mainly because there have been some interesting changes in the past few weeks. While my former boss and I are still friends, he and I both knew there were underlying tensions between us surrounding the way we do and finish out work, as well as the way I felt I had been treated lately concerning another associate. This all being said, he and I are friends. If it hadn't been for this lovely chain of events, I'd be at the Braves game with him right now.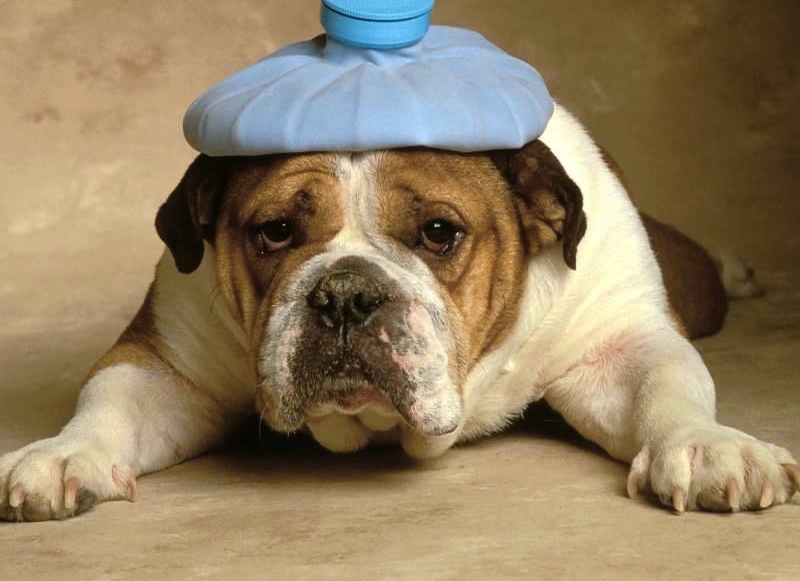 Between the last post blog post and this, I have indeed become as sick as a dog. While that isn't my lovely dog Macy, I can't exactly get a great picture of her like that because she isn't the happiest camper at the moment, but more on that later. Between the lack of sleep, the long hours of work, anxiety of this past year, and working myself to death on the pitch, I caught something. I felt it was just some cold and flu thing, so I figured that taking it easy would be fine. In fact, I simply got worse. My stupid invincibility complex flared up, because there's no way I could get sick…right?
Bronchitis + Pneumonia = Levaquin, Albuterol, Prednisone, and Hydrocodone ASAP
I went to the Urgent Care/ER satellite office on Thursday morning. Honestly, the nurse said if I hadn't come then, I would likely be in the hospital over the weekend. In less than one week, I had become more sick than at any other point over the past decade (minus swine flu in sophomore year). Anyway, I luckily had the weekend off, so I struggled through two shifts at work with my new boss and am now sitting around at home, feeling a million times better than Thursday, but nowhere near a hundred percent. After all, you shouldn't wheeze like that when you breathe, right?
I felt even worse because my new boss' first real week was this week. He's a cool fellow, and he is an expat in a loose sense of the word. He didn't leave the United Kingdom because he was unhappy or anything. Simply put, he fell in love! :) I haven't gotten the full story yet, but I have to say that it has been very awesome to hear this story and see where his life has gone, especially since he's only five years older than myself. If anything could have kept me happy in suits or patient enough to not bitch everyday about it, then it was the transfer of him to our store. He's a breath of fresh air, and as a result, my job search has been postponed. I want to move and want to make more money, preferably in a different industry, but I can do suits for the time being. I have leads in a variety of places, and I am seeing if those pan out though. I truly hope they do, but I know that the expat has me happy for now. 
The first very humorous interchange between the two of us dealt with driving/traveling. I remarked that it was once a haul to drive five hours from Atlanta to Tallahassee to see a former girlfriend. He laughed in my face and told me to tell me that again when I flew across the Atlantic to see someone special. All joking aside, he's given me a very interesting perspective as of late. So far, he has had me appreciate what I have had in terms of work, and he obviously wants me to not sweat the little things as much…which is primarily the innumerable amount of purely wretched customers we've had lately.
"Pick your battles, you'll be happier bud. Cheers," as he left for dinner with his wife.
I find that this is great advice for life that I often neglect. Hence, I've stopped nitpicking every thing my parents do that irritates me, and I just have been letting things happen. Honestly, there's a lot less stress at home because of it. Home can be wonderful when it feels like that, even if I still don't feel like I have a real home in some circumstances. I live in a house that is an echo of its' former self, because my heart isn't there like it was before college. I talk about Peru with the expat, and my heart, my mind, and the very essence of my soul aches for that land some three thousand miles away. 
I made a funny comment about seeing the Script and an impromptu rap show in the same night to my new boss as well. (Oddly, that was just a year ago) He laughed and remarked that he couldn't fathom the same people who stick their lighters up at a Script concert to "The Man Who Can't Be Moved" as the same people who'd go stand in front at a rap show. I swore it wasn't intentional, but that I loved those nights when my life just had things happen like that. "Anything gets you excited, eh?" he chuckled. I laughed and realized there were a lot of things that could be worse in my life. After all, who else has been given free drinks at a New Era shop with a rapper and then saw a near polar opposite across the street at the Script??
On a lighter note, my dog Macy is currently feeling hatred towards to me right now. In the past few hours, I have taken her to the vet for blood work, bathed her (which is the bane of her existence), cleaned her ears with medicine, and then, to top it off, dumped water on her head because the medicine got in her eyes. She isn't a happy camper by any stretch, yet she is sleeping next to my dad on the couch right now. Alas, things could be worse. Anyway, I shall leave you with the only possible song that fits with this today, in a respective salute to my new boss.
-G